'Homage to Ennio Morricone'
After Master Morricone has received the Academy Award, the Golden Globe, the Critic's choice Award and a Star on the Walk of Fame, here is a concert in which you will find the most famous compositions of the international story of cinematography written by this important musician.

The most famous soundtracks.
Ennio Morricone
The renowned composer Ennio Morricone composed many of the world's most famous soundtracks, including "The Good, The Bad and The Ugly".
Ensemble 'Le Muse'
'Le Muse' are an instrumental female ensemble composed of musicians that developed their career inside the famous group 'Rondò Veneziano'.

In the project "Musiche da Oscar" the ensemble is composed of classical musicians so that the sonority of the original themes proposed during the concert is represented in the best way, and a vocalist – Angelica Depaoli – who sings the vocal parts.

The Ensemble is conducted by Master Andrea Albertini.

They have performed all over the world in countries such as the USA, Canada, India, Italy, France and so forth.
Repertoire
The repertoire proposed by 'Le Muse' has been selected among the rich oeuvre of Master Morricone, choosing some of the best known soundtracks from the '60s up to nowadays, including the soundtrack that won the Academy Award in 2016.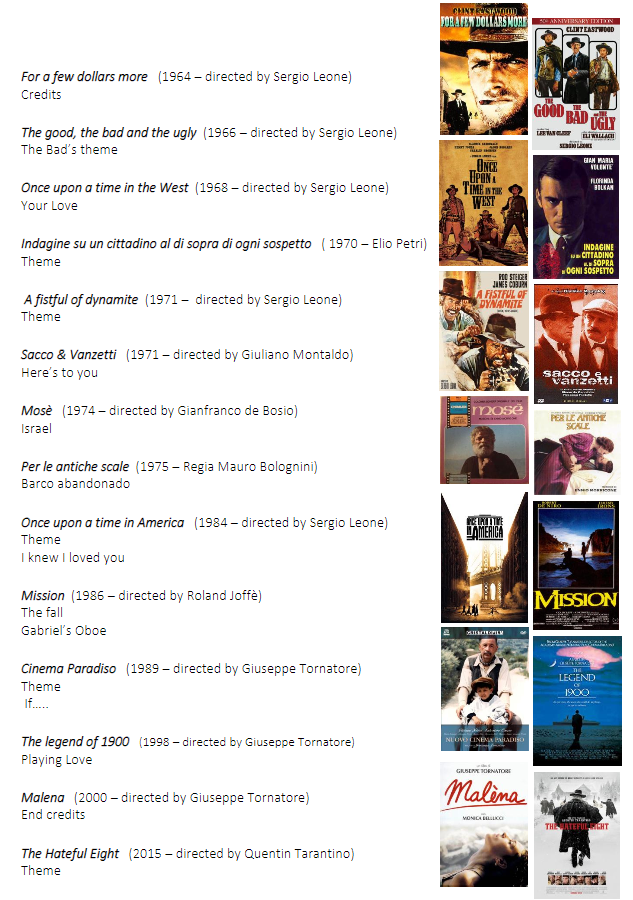 Concert details
The Ensemble can perform in various formats ranging from 5 to 30 musicians, plus a vocalist and conductor Andrea Albertini, according to the available budget.

Each song is presented by Master Albertini and is enriched with anecdotes, curiosities, historical and biographical notes.

The film clips and photos showed during the concert add a magic atmosphere.
Tour dates

19.10.2023 Tallinn, Estonia –  Alexela Concert Hall

21.11.2023 Genk, Belgium  – Casino Modern

22.11.2023 Scherpenheuvel, Belgium – Cultural Centre Den Egger

23.11.2023 Hoorn, Holland –  Park Theater

24.11.2023 Vlissingen, Holland –  CCXL Theater

25.11.2023 Uden, Holland –  Markant

26.11.2023 Vilvoorde, Belgium –  Cultural Centre Het Bolwerk

28.11.2023 Wroclaw, Poland –  Synagoga Pod Bialym Bocianem

30.11.2023 Lebbeke, Belgium –  Cultural Centre De Biekorf

01.12.2023 Helmond, Holland –  Het Speelhuis

02.12.2023 Heiloo, Holland –  Cultuurkoepel

03.12.2023 Bree, Belgium –  Cultural Centre De Zeepziederij

20.04.2024 Bucharest, Romania –  Athenaeum Roman
Contact worldwide
info@musiconsultants.com